When it comes to reliability, it's easy to claim that a Cloud UC service is reliable but how do you prove it? In the case of Kandy, it starts with the Ribbon Communications (formerly Genband) heritage and ends with investments in better deployment environments and a committed team. Don't settle for a solution that just looks good – be sure it's built and run by experts. The Ribbon team has been designing, building and maintaining carrier-class communications networks for decades.
Global Leadership
RIBBON is a global leader in real time communications software solutions for service providers, enterprises, independent software vendors, systems integrators and developers in over 80 countries. Its market-leading Network Modernization, Unified Communications, Mobility and Embedded Communications solutions enable customers to quickly capitalize on growing market segments and introduce differentiating products, applications and services. RIBBON is headquartered in Plano, Texas and has operations, R&D and resources around the globe that provide world-class support and services for its vast customer base.
Real Time Communications Without Boundaries
RIBBON's real time communications solutions help its customers connect people to each other and address the growing demands of today's consumers and businesses for real time communications wherever they happen to be. The company's comprehensive solutions suite empowers its customers to enrich their service offerings with real time contextual communications, providing a richer, more engaging user experience.  RIBBONs technology is deployable in the network, on premise or through the cloud.
Visit the Ribbon website.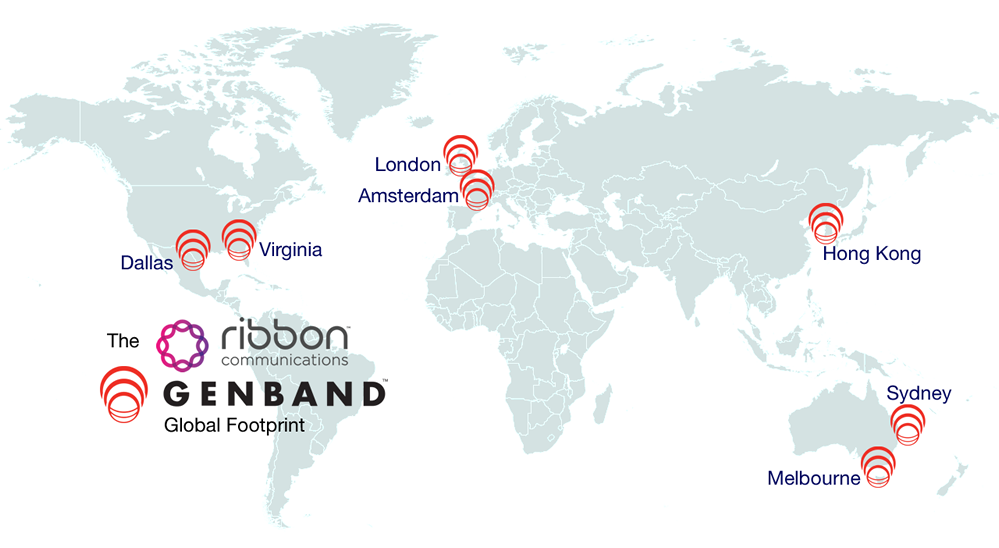 Kandy Cloud UC RELIABILITY
The RIBBON Difference
The Kandy Cloud UC service is built and managed by a global leader in communications, RIBBON. Our software and hardware are in the heart of over 700 Service Providers (Wired, Wireless and Cable/Satellite) worldwide. The same carrier-grade RIBBON technology that powers Kandy Cloud UC also powers millions of lines in over 80 countries. Kandy is built on RIBBON Application Servers, Session Border Controllers, Voice Messaging and more; all deployed and managed by the same team, all delivered from one Cloud.
Global Footprint
Global organizations want to simplify communications internally and with their customers. That means enabling communication tools that break down barriers between sites like unified dialing plans and a single employee directory. Unified Communication tools like presence and instant messaging that work across boundaries. Spend less time training users and shrink the physical barriers that impede collaboration.
Kandy Cloud UC has a global footprint that delivers the same level of service and features to all users ensuring the best unified communications experience.
High Availability / Fault Tolerant
Kandy Cloud UC boasts 99.999% uptime. Kandy's carrier-grade elements are deployed in geo-redundant configurations to minimize the impact of natural disasters, utility failures or hardware failures. Deployment in world-class datacenters assures that critical services like power, air conditioning and IT services have multiple layers of fault tolerance. Of course, all of these systems are maintained by RIBBON staff that have decades of experience managing carrier-grade networks.