Skyway SIP Trunk Service
A modern, efficient voice network enables business collaboration and cost control
Why Skyway SIP Trunks?
Reduce costs and maximize efficiency with fully integrated, Microsoft-certified SIP Trunks. Whether connected to Skyway's Hosted PBX service, Microsoft Teams Phone System or to your own on-premises PBX, Skyway business SIP trunks deliver flexible features not found with legacy telephone lines. 
SIP Trunks complement or replace traditional business phone lines with a more efficient and cost–effective solution. Session Initiated Protocol (SIP) has become the industry standard protocol for enterprise grade VoIP service providers and hardware manufacturers.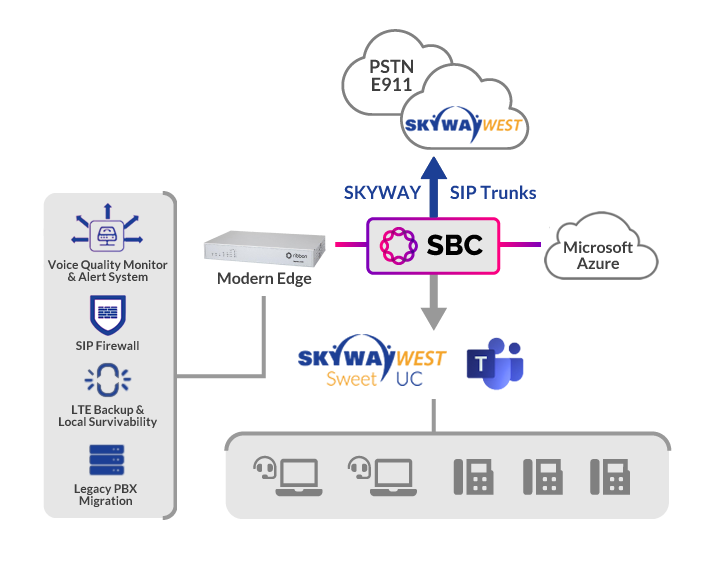 Bursting Included
Skyway SIP trunks are configured with "channel bursting", so you only pay for phone lines based on your average usage, but still allow for bursts of phone calls during busy periods. There are NO busy signals and, just as important, you are not paying for unused capacity. 
Connect Multiple Locations
Instead of ordering a quantity of phone lines for each location, we can deliver a single SIP trunk for your entire company, with multiple SIP channels and DID phone numbers. Your entire company shares the same pool of dial-tone, improving efficiency and reducing your overall costs. And your phone numbers do not change! 
Fax over SIP
Instead of a separate, expensive legacy phone line just for faxing, send and receive faxes over your Skyway SIP channels.  We can also help you connect your analog fax equipment to our SIP trunk service.  
Dedicated Internet for Voice
Skyway SIP can be delivered over your existing Internet connection, but for high-capacity requirements we recommend separating Voice traffic from Data. Skyway can include a dedicated (low latency) Fibre or Business ADSL circuit that is dedicated for Voice. SIP Trunking running over Skyway's Routed IP networkadds to the voice quality and is more efficient and cost effective than traditional voice services.  
Interested in Business Internet Solutions from Skyway?
Find out how our Internet Solutions can benefit your business. Submit the form and we'll get right back to you…