Connectivity: Interconnect Flexibility
Organizations often need pragmatic paths to migrate to a full Cloud UC solution. Existing hardware and/or interconnect contracts (for dial tone or data services) may impact how organizations migrate to the Cloud. Kandy provides interconnect flexibility – ensuring that organizations can access dial tone from a variety of source and still gain the benefits of a Cloud UC solution. This dynamic model eliminates common barriers that slow or preclude adoption of cloud services.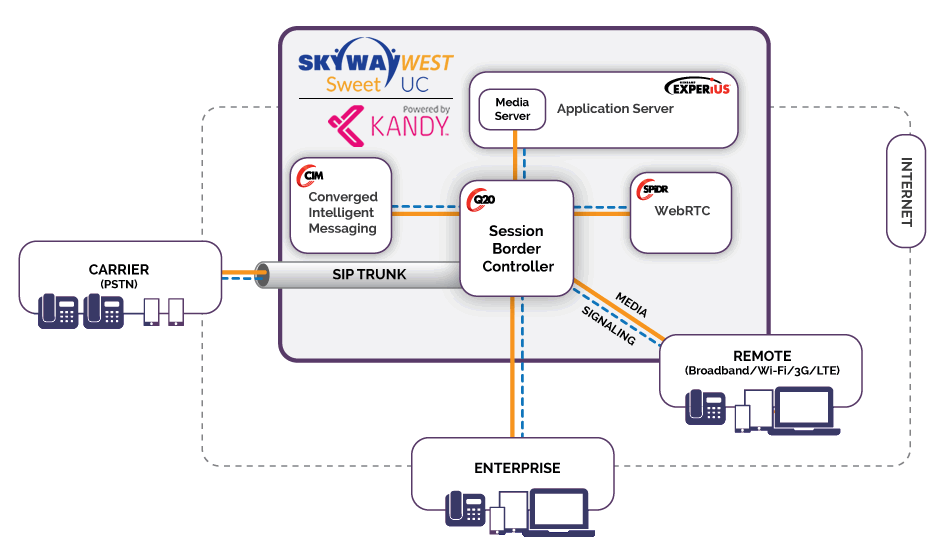 For most organizations, the simplest and move cost-effective option is to leverage Kandy's carrier-grade SBC and SIP Trunking services. This 100% cloud solution eliminates the complexity of acquiring and maintaining on-premises SBCs or media gateways. Organizations gain the complete value of cloud-based telephony and unified communications services without additional hardware/software or maintenance expenses.
Secure, Flexible and Reliable
Cloud-to-Cloud Connectivity
Kandy provides carrier-grade SBC and SIP Trunking services directly from the cloud, enabling cloud-based telephony and UC services without the complexities of managing or maintaining on-premises SBCs or media gateways.
Organizations fully realize the cost savings of a 100% cloud solution.
Locally Managed SIP Trunks & SBCs
Kandy easily connects to existing managed SIP Trunks or traditional PRIs (via media gateways). Organizations can utilize all of Kandy's UC services while continuing to route PSTN calls through their local trunks. This is an ideal solution if organizations need to honor long term contracts for dial tone.
Additionally, organizations may require or desire a premises-based SBC for additional services or to meet security policies. Kandy's cloud-based SBC can seamlessly interconnect and interoperate with a premises-based SBC, assuring local solution requirements are met while offering the benefits of cloud services.
SIP Trunk Consolidation
Organizations with geographically dispersed offices might find themselves managing multiple SIP Trunks with multiple dial plans, which is both costly and complex. With Kandy, organizations can consolidate these locally managed SIP trunks into a unified Kandy SIP Trunk; enabling centralized management of dial plans and user class of service. IT organizations reduce moves, adds and change complexity and save staff time.
Leverage PBX Investment
Organizations with a large headquarters or several large regional offices may have an on-premises telephony solution that was recently deployed or custom application integration that makes cloud migration cost prohibitive. Don't worry, Kandy does not require every site be moved to the cloud to create value. There is no downside to migrating some sites and leaving others in-place. Organizations can cost effectively migrate aging branch offices or remote workers that might quickly benefit from a cloud solution even as other sites maintain traditional premises-based hardware.