Smart Office: Keep Your Team Focused, Engaged, Productive
More efficient communications enable greater productivity, and sometimes a voice-only conference call isn't enough. Video conferencing and screen share increases engagement, focusing participants on the task at hand. No longer do you need a special conference room or a special app with one more address book and password to maintain. Employees want a tool that they can start in an instant and that is already part of their communication solution: Smart Office, integrated into Sweet UC's Kandy clients, is the answer. HD audio and video conferencing, with screen share, and anyone with a web browser can connect and participate; connect in the office or from the road. Meet with one person or use Outlook to invite dozens of participants from across the globe. Smart Office enables users to connect, collaborate, and make decisions.
Overview: It's Smart for Business, it's Smart Office
This is What Business Says*:
Video collaboration increases productivity
Smart Office customers have seen great improvements in productivity through video collaboration. Some typical benefits include:
Reduced staffing needs
Shorter time to train dispersed teams
Faster delivery of content
Slashed travel time for meetings
Video collaboration accelerates decision making
Smart Office customers have seen how face-to-face meetings with partners, clients and customers can lead to faster decision making compared with phone or email connections. Face-to-face contact builds trust faster.
Video collaboration reduces travel costs
Smart Office users reduce the cost of business travel through video collaboration, freeing up money, as well as time, to be invested elsewhere. With the ability to connect from the home location to anywhere across the globe, video conferencing allows teams to collaborate as productively and efficiently as if they were face to face in the workplace.
Interested in a Sweet UC Demo?
Your Personal Collaboration Room
Smart Office eliminates the common hassles that often afflict traditional meeting services – you don't need to sign-up for every session and send out a different meeting address for every event. Smart Office provides each user with their own personal collaboration room that doesn't change. If a meeting moves by 30 minutes, the meeting invitation doesn't change. It's quick and easy to extend a meeting to additional co-workers or guests by forwarding the meeting URL or using the tools built-in to a Smart Office UC client. Either way, guests can join with just a web browser and, once connected, can hear and see each other, use group chat for sidebar discussions and share screens, content and chat.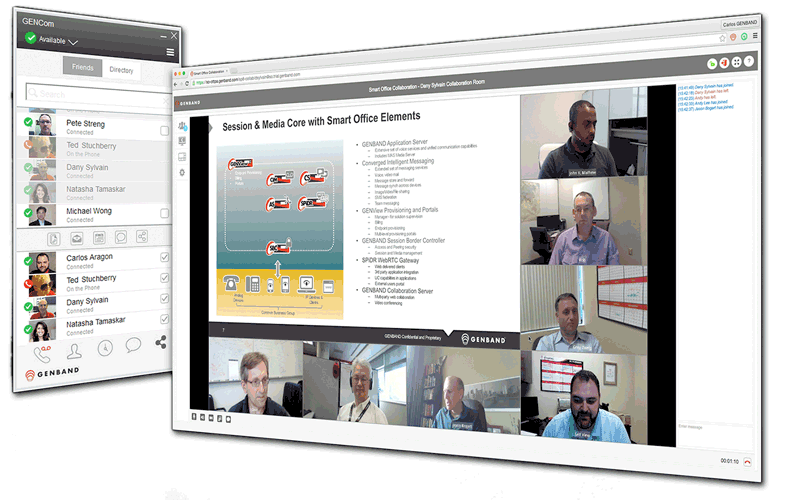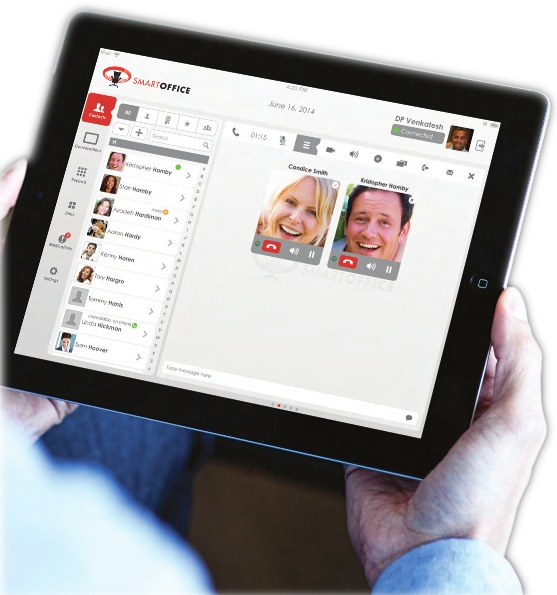 Your Room Your Rules
To be productive collaboration users need to stay focused and engaged. Seeing body language and non-verbal cues offers tremendous benefits over a traditional audio-only conference call. Unfortunately, that doesn't mean participants can't get distracted. Thankfully Smart Office gives moderator's powerful tools including:
Mute Audio – per person, all participants (with personal override) and all participants
Mute Video -per person, all participants (with personal override) and all participants
Remove participant
Lock conference (to preclude new attendees)
You'll never have to beg participants to mute themselves when their dog barks or when they enter a wind tunnel on their mobile phone.
Just a Click Away
Smart Office is tightly integrated with Sweet UC's Kandy-supported Unified Communications clients allowing you to quickly escalate from a chat session to a full collaboration — with just a click.
Client choices include:
Smart Office Desktop and Web Clients
Nteract for Windows (includes one-click Outlook e-mail and calendar invites)
GENCollab for Mobile (iPhone/iPad and Android phone)