Feature Spotlight: Virtual Receptionist
Be sure every call to your business is answered
and routed efficiently, day or night
Sweet Cloud UC provides a sophisticated yet simple to use automated attendant, the Virtual Receptionist assists organizations of any size, to greet and route incoming calls. Ideal for high-volume call environments or after-hours and overflow call routing, the Virtual Receptionist can be your organization's primary answering point or supplement a live receptionist.
Incoming callers are greeted with a professional greeting you record, callers can route themselves based on menu choices you define. Sub menus offer callers the opportunity to further guide themselves to a specific department or individual. Menus can be tailored to business hours, time of day or holidays to assure that callers are offered the most appropriate choices.
"Good Morning, thank you for calling Avrum Group. To reach our Sales Department Press one, For Customer Service Press two…"
The Virtual Receptionist is flexible enough to meet the needs of almost any organization, regardless of the industry or trade. Your organization will appear professional and callers will be receive immediate attention. The Virtual Receptionist can also support creative deployments such as offering a back-door to your organization so staff or partners to efficiently route themselves without tying up staff that need to stay focused on customers.
Virtual Receptionist
Powerful Messaging Capabilities Hosted in the Cloud
Virtual Receptionist
An intuitive web portal makes it easy to define menu structures and routing selections. Multiple schedule options simplify call management at different times of day, day of the week and during holidays. The Virtual Receptionist can easily manage large volumes of incoming calls and provide multiple levels of call handling for any business environment.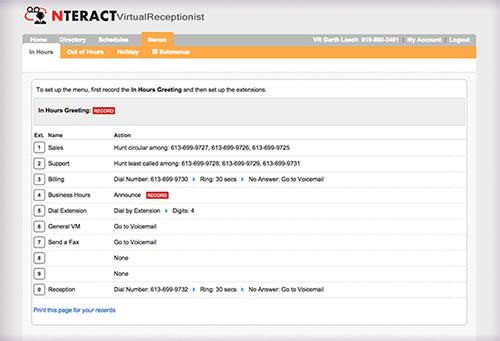 FEATURES
Multi-Level Menus
Schedule-Based Menus & Greetings
General Voicemail & Fax Box
User Directory (route by extension or spell by name)
User Definable Routing Selections Include:

Dial a Phone Number
Transfer to Voicemail
Transfer to Account
Dial User Extension
Go to Submenu
Transfer to a Hunt Group
Announcement
Route to an Operator
Dial by Name

Call Announce
E-mail, Text, or Phone Call Notifications
BENEFITS
Ensure caller satisfaction by answering calls immediately and offering routing choices that move callers quickly and efficiently to their chosen destination
Reduce the time wasted answering commonly asked questions by delivering prerecorded messages such as office hours, driving directions, etc.
Record your own greetings and define appropriate routing selections so callers feel they are being greeted personally and efficiently
The  Virtual Receptionist is available 24/7, even if no one is available to answer calls or if the office is closed. Different menu and routing options can be offered for receptionist overflow, after-hours and holidays.