Reduce The Number of
On-Site Customer Support Visits
Sweet UC's Kandy Truck Roll provides a mobile based customer and field support experience that allows users to show instead of tell and accelerates issue resolution. Truck Roll enables your customer service department to resolve more issues remotely, minimizing the number of on-site technicians dispatched.
Truck Roll uses the Kandy Platform-as-a-Service (PaaS) solution to combine real time communications into a mobile solution (on Android and iOS) that allows users to share their mobile camera to show your customer support representatives exactly what the issue is. Your reps can then use this valuable information to better identify the root of the issue and provide users with instructions, videos or manuals that will help them get it fixed by themselves.

Kandy Truck Roll: Support Where it's Needed
Use Truck Roll with Your Field Support Agents
or Your End Customers
Kandy Truck Roll can accommodate internal (field support) and external (customer support) usage scenarios. The goal is still the same, ensure your field technicians complete their assignment (avoid a second visit) or your customer solves the issue by themselves (avoid an on-site visit). Because avoiding a real truck roll puts money in your pocket!
Field Support
On site technician video calls remote subject matter expert (SME)
SME can see through technician's camera to provide higher level of support
SME can be off-shore or at a centrally located call center
Prevents additional truck roll for second visit
Customer Support
Customer video calls remote expert
Remote expert can see through customer's camera to provide support instead of on-site technician
Remote expert can be off-shore or at a centrally located call center
Prevents truck roll for on-site technician visit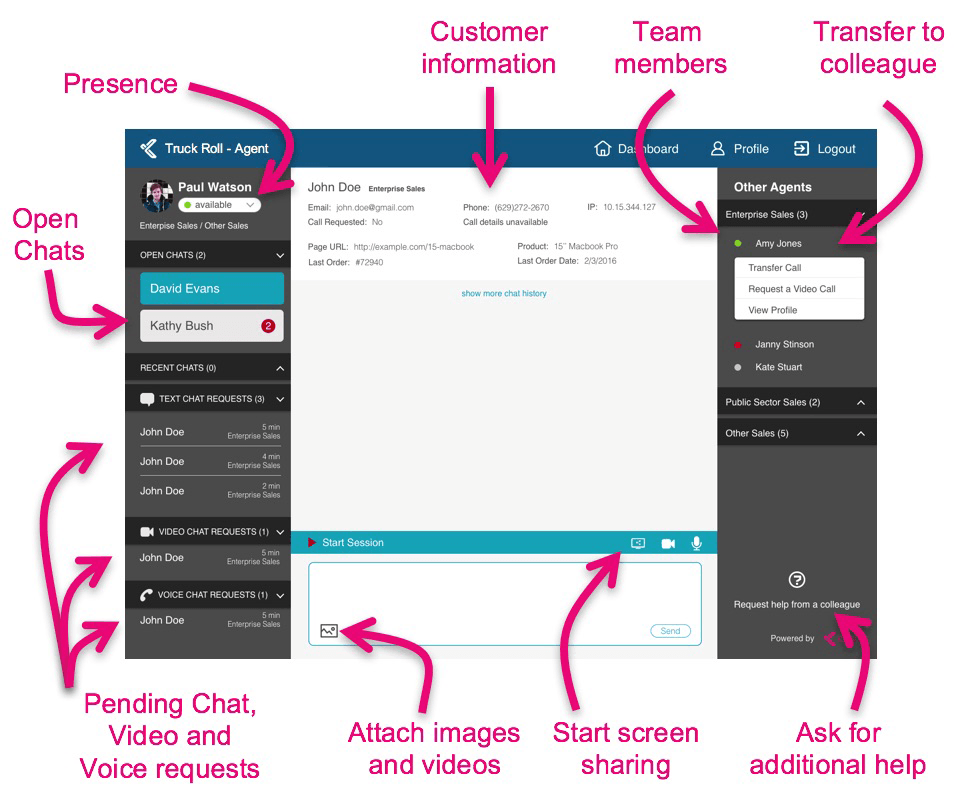 Interested in a Skyway Sweet UC Demo?
Truck Roll is Fully Featured
Easy to Use
Embed in field service applications or send link to customer (email/SMS) to start Truck Roll and connect to a remote technician
Mobile Video
Users can share their mobile device camera to show agents what they see, instead of telling, for better understanding of the issue
Content Push
Users and support representatives can share images, videos and instructions documents to speed up issue resolution
Screen Sharing
Support experts can remotely assist users in real-time by activating screen sharing directly within the Truck Roll window
Easy to Deploy
Back end portal to define the menu trees, manage agents and departments
Any Size Business
Micro businesses, SMBs, Enterprises and Large Contact Centers can benefit from Truck Roll as an overlay or fully integrated
Each Time You Successfully Solve an Issue
with Truck Roll You've Saved at Least $150
The cost varies depending on the company and the goods and services being offered but on average the cost of delivering an on-site technician can easily exceed $150.
And this cost is only the billable portion of the visit. If you add labor (including travel and transition time), vehicle (fuel, depreciation, insurance, maintenance, taxes, permits, etc.) and the opportunity (if your technicians are doing warranty repairs, they are not doing new installations) costs, the real value of the truck roll can go well beyond $1,000 per visit.
There is also lost productivity. On average, a technician takes 30 minutes to drive to the appointment, 15 minutes to prepare and 15 minutes doing paperwork after the appointment. That is 60 full minutes, for every truck roll, that your technician is not working for the bottom line; 60 unbillable minutes.
But you don't have to take our word for it. The math is simple, just multiply the number of customer service requests by your own average cost per truck roll and you will get your monthly expense. Multiply the same number of requests by your own average of unbillable minutes and you will get the lost productivity for your technicians. When you do the math, you will want to know more about Kandy Truck Roll.